Search engine optimization (SEO) may be one of the more difficult aspects of digital marketing, but it's also one of the most important ones. SEO helps improve your website's search rankings in both organic and paid search results, thus helping you get more traffic from search engines. For those unfamiliar with SEO, here are five essential steps to help you achieve higher search rankings in Google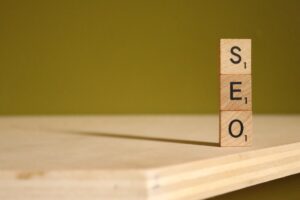 1) Keyword Research helps for SEO
Keyword research is one of the most important, valuable, and high return activities in the search marketing field. Ranking for the right keywords can make or break your website. By researching your market's keyword demand, you can not only learn which terms and phrases to target with SEO, but also learn more about your customers as a whole. Plus, it makes everything easier when you know what people are searching for already! To do this efficiently (or at all), we recommend using Google's Adwords Keyword Tool.
-On page optimization: Your content will determine how well you rank on google so it needs to be optimized correctly! Ensure that the title of each page includes your targeted keyword(s). Additionally, pay attention to word count.
2) Site Structure helps in SEO
One of the most important aspects of ranking in Google is site structure. A well-organized website with a clear hierarchy is easier for both users and search engine crawlers to understand, making it more likely to rank higher. To optimize your site structure, start by ensuring your pages are all reachable from the home page via links. Then, organize your pages into logical categories, and use descriptive titles and URLs that include relevant keywords.
If you want your website to rank higher in search engine results pages, you need to start with strong content. Content marketing is the process of creating valuable, relevant, and engaging content to attract and retain customers. Here are five essential steps for creating a content marketing strategy that will help you get to the top of Google 1) Establish goals
2) Define the audience
3) Determine channel priorities
4) Plan an editorial calendar
5) Review your analytics
6) Evaluate what's working and what's not
7) Measure progress
Are you getting enough traffic? Is it converting? Are people clicking on links? What do they read most often? What do they read least often? What topics should you write about more or less of? How can you make them stickier, more attractive to readers? These are all important questions to ask yourself when evaluating success. Asking those questions and answering them will allow you to tailor your content around the interests of your readers so that you'll be more likely to attract them and convert them into paying customers.
4) Social Media Marketing
1.Build a strong social media presence. This will help you connect with potential customers and create a base of followers who can help promote your business.
2. Use keywords in your posts and on your website. Doing research to find the right keywords can be helpful in driving traffic to your site.
3. Create quality content. This is one of the most important things you can do to improve your SEO — make sure what you're writing is interesting and informative!
4. Promote your content. There are many ways to do this, including emailing it out to your network, posting it on social media sites, or even submitting it to online publications. You should also consider reaching out to bloggers for guest posting opportunities.
5. Update often.
If you post new blog articles regularly, search engines will rank them higher because they'll show up more frequently in search results pages. 6.
5) Technical Aspects
1. Make sure your website is accessible to Googlebot and other web crawlers by checking your robots.txt file.
2. Optimize your website's title tags and meta descriptions to include relevant keywords for your business.
3. Use header tags wisely on each page of your website, including H1, H2, and H3 tags.
4. Improve your website's loading speed for both desktop and mobile users.
5. Check if you have any duplicate content that could be penalized in search engine rankings.
Review your external links to make sure they are not spammy or harmful to a user's experience. A link juice, also known as link authority, passes along to those linked sites when people click on them. Link juice can help boost your site's ranking in the SERPs, so it's important to maintain good quality backlinks from reputable sources. Add social media buttons so visitors can share your content with their networks- this will help drive more traffic back to your site.
Finally, establish goals for what you want to achieve with SEO and keep track of these goals using KPIs (key performance indicators).
FAQ's
What is SEO?
SEO stands for search engine optimization, which is the process of optimizing a website or web page to increase its visibility and ranking in search engine results pages (SERPs). SEO involves various techniques such as keyword research, on-page optimization, link building, and content creation.
2. How do search engines work?
Search engines use algorithms to crawl and index web pages and rank them based on relevance, authority, and user experience. When a user enters a query, the search engine retrieves and displays the most relevant and useful results based on the ranking factors.
3. What is on-page optimization?
On-page optimization refers to the techniques used to optimize individual web pages for search engines and users. It includes optimizing page titles, meta descriptions, headers, content, images, and internal links to make them more relevant, readable, and engaging.
4. What is off-page optimization?
Off-page optimization refers to the techniques used to improve the reputation and authority of a website or web page through external factors such as backlinks, social media, and online directories. It includes building high-quality backlinks, engaging with social media followers, and submitting to relevant directories and listings.
5. What are keywords?
Keywords are the words or phrases that users enter into search engines to find information, products, or services. Keyword research is the process of identifying the most relevant and high-volume keywords for a website or web page and using them strategically in content and meta tags.
6. What are backlinks?
Backlinks are links from external websites to a website or web page. Backlinks are an important ranking factor in search engine algorithms because they indicate the authority and relevance of a website or web page. However, not all backlinks are created equal, and quality is more important than quantity.
7. What is content creation?
Content creation refers to the process of producing and publishing high-quality and relevant content that engages and informs the target audience. Content can include blog posts, articles, infographics, videos, and other formats, and it should be optimized for both search engines and users.
8. How long does it take to see results from SEO?
The timeline for seeing results from SEO can vary depending on several factors such as the competitiveness of the industry, the quality of the website, and the consistency of the SEO efforts. Generally, it can take several months to a year to see significant improvements in ranking and traffic.
9. What is local SEO?
Local SEO is the process of optimizing a website or web page to rank higher in local search results for geographically specific keywords. Local SEO techniques include optimizing Google My Business listings, building local citations, and getting reviews from customers.
10. How do I measure the success of my SEO efforts?
To measure the success of your SEO efforts, you can use tools such as Google Analytics and Google Search Console to track metrics such as organic traffic, keyword rankings, backlinks, and user behavior. You can also set up goals and conversion tracking to measure the impact of SEO on business objectives.